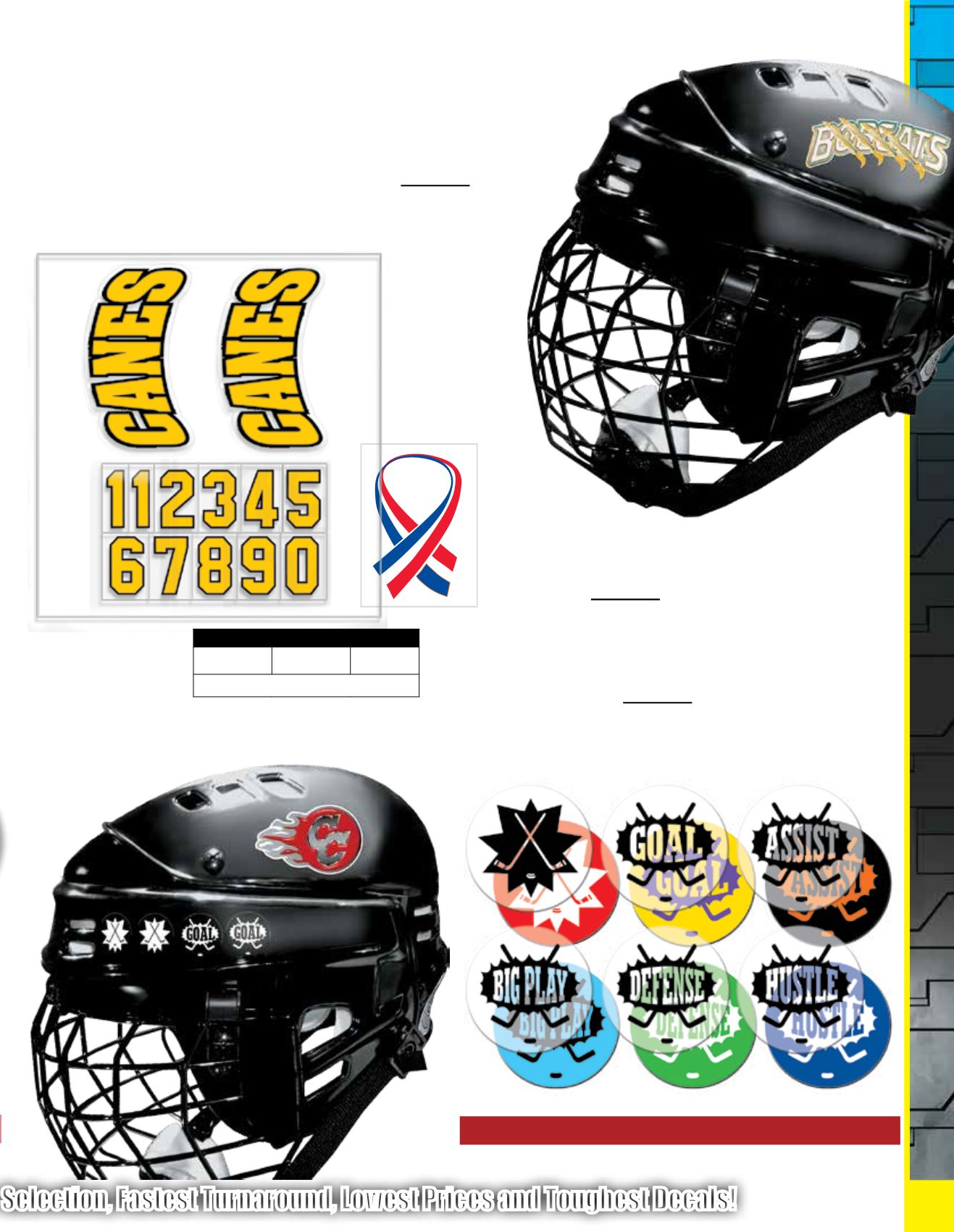 Selection, Fastest Turnaround, Lowest Prices and Toughest Decals!
See more stock awards on pgs. 16-17!
Show Your Team Pride with Hockey Helmet Decals
Your decals arrive contour-cut to shape...with no die charges!
Nobody makes a tougher, thicker, more flexible or longer-lasting decal than Procals
®
...that's why
they're specified by equipment managers of pro hockey and college teams! 20-mil vinyl stickers bend
easily to the shape of your helmet...stick tight throughout the season...and there's no cutting on your
part! We cut your decals to shape for you so they're ready to apply!
TO ORDER: Specify
Item
#CHDKHO;
mascot or design (we probably have yours!), up to 2 imprint colors; number of sets.
Minimum order: 15 sets.
Decals ship in 5 working days or less after artwork is approved.
Hockey Award Decals
Watch your team work hard to earn these stickers! 25 decals per sheet; YOUR
CHOICE of any one color on a clear background OR BONUS COLORED
BACKGROUND AT NO EXTRA CHARGE! All ¾" award stickers are printed on 1"
easy punch-out 20-mil vinyl circles.
TO ORDER: Specify
Item #, color, number of
sheets.
SHIPS IN 48 HOURS OR LESS.
Only $6 PER SHEET
(25 stickers per sheet).
MINIMUM QUANTITY OF 5 SHEETS
for any CUSTOM awards or CUSTOM color(s). Ships in 48 hours or less.
Patriotic Ribbon Sticker
Just like the pros! Show team spirit and American pride with our
exclusive decals.
Only $8 PER SHEET
(18 decals per sheet)
TO ORDER: Specify
Item
#002444,
quantity.
#H255 HOCKEY
#H256 GOAL
#H257 ASSIST
We'll make
your decal pairs
FACE FORWARD
unless you
specify
otherwise!
1-Color 2-Color HDHD
®
$4.00 $5.00 $6.00
Decals Only?
Save $2.00
Set includes 1 pair of cut-
to-shape helmet decals
and 1 set of numbers
(0-10). 2-color printing
at NO EXTRA CHARGE!
Minimum order: 15 sets.
Shown
actual size
#H258 BIG PLAY
#H259 DEFENSE
#H260 HUSTLE
31