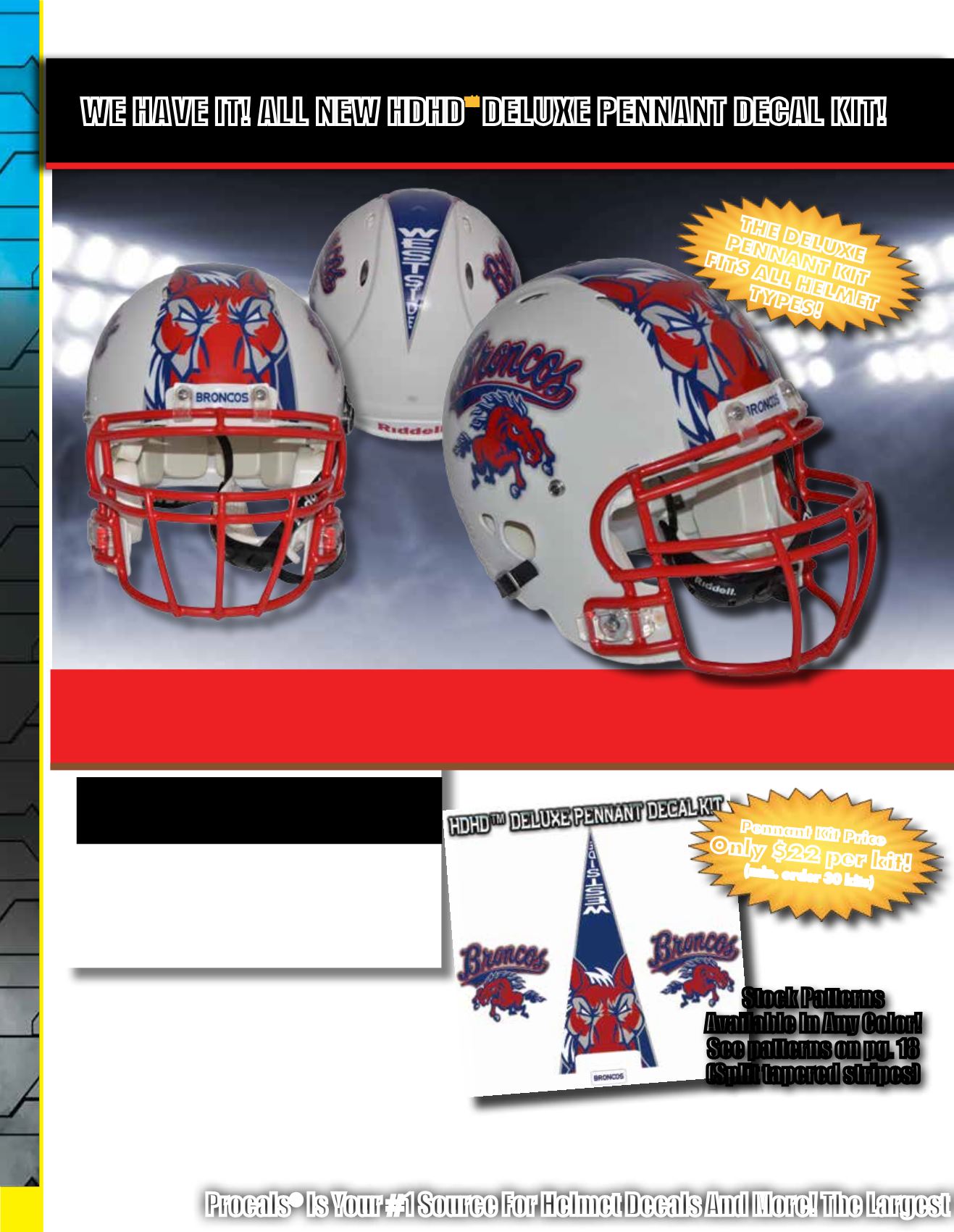 Procals
®
Is Your #1 Source For Helmet Decals And More! The Largest
12
Are You Looking For The Hottest New Helmet Kits?
WE HAVE IT! ALL NEW HDHD
™
DELUXE PENNANT DECAL KIT!
Pennant Kit Price
Only $22 per kit!
(min. order 30 kits)
The NEW HDHD™ Deluxe Pennant Decal Kit is designed for teams who wear a variety of helmet styles.
This decal set will fit all of your helmets and look GREAT regardless of your mix of helmet brands and
styles. Our exclusive NEW HDHD™ Pennant Stripe, Logo Decals and Sweatband panels will
make your team stand out from the competition!
Your HDHD
™
Deluxe Pennant Decal Kit
Includes:
• 1 Custom Pennant Stripe
• 1 Pair of Custom Helmet Decals
• Custom Sweatband Cover
Not available in matte or metallic flake
HDHD
™
TO ORDER:
Due to the complexity of these new decal kits, more lead time
is necessary to ensure proper fit to the helmet style. Please plan for at least
10 additional production days prior to shipment. Please specify helmet styles
and sizes when ordering.
Specify:
Item #016036
Choose your pattern from our stock patterns,
or pick a solid color!
(see color chart on pg. 17)
All trademarks and registered trademarks are the property of their
respective owners.
Stock Patterns
Available In Any Color!
See patterns on pg. 18
(Split tapered stripes)
THE DELUXE
PENNANT KIT
FITS ALL HELMET
TYPES!